In my ongoing pursuit to share what I'm seeing about how workplaces are changing and what jobs of the future might be, I will be interviewing people with interesting roles in innovative companies that are changing the way we think about work.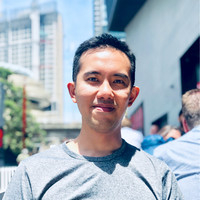 Kelvin works for ConsenSys, a company that supports and builds applications and startups on the Ethereum blockchain. Blockchain is essentially an open decentralised digital ledger that records transactions and events. It has the potential to change the way industries operate and ConsenSys has used this as a catalyst to also look at changing the way people work.
I recall before he started the role he would make a joke, "Is it a chain of blocks or block of chains? I don't know." It was funny (the first time), but does also demonstrate one of the key things I've noticed about Kelvin – he's always looking to do something different and learn more. 
Here are some notes from a chat I had with him recently.
Where do you work and what does the company do?
I work at a blockchain software company called ConsenSys that focuses on the Ethereum blockchain technology. It's been around for 5 years. With hundreds of staff all over the world, it runs a decentralised, remote first culture. 

ConsenSys' founder, Joe Lubin, is a big believer that everything needs to be decentralised. He's established a workplace structure where there's no hierarchy – no one reports in to anybody. You're held accountable by your team.

Why did you join ConsenSys?
I wanted to try something different and was looking at interesting companies. Blockchain was always going to be part of the next wave of technologies and I wanted to become more directly involved.

The internet was built for everyone, but if you look at all of these big companies that own so much of the internet – whether it be Google, Facebook or Apple – you can see the purpose of the internet has been lost.
With blockchain everything can be public and transparent, everyone has a say or a vote. It's aspirational to think that we can go back to a world where everyone can have a say in the future of the internet and how it will be run.
What's your role?

My title is Digital Lead for the marketing team in the Asia Pacific region. I help market, write and share information on Ethereum and blockchain technologies and use cases on all the different social platforms in Asia.
Can you give us an example?
We were recently in Vanuatu with Oxfam working on a Project called Unlocked Cash. Like many Pacific islands, Vanuatu is vulnerable to a high volume of extreme weather events and when disaster strikes, NGOs go in with Cash and Voucher Assistance programs to ensure locals get what they need. The problem we were trying to solve was how we could provide cash immediately, ensure that those funds do not get eaten up by transaction costs and provide real-time data.
We provided an Ethereum public chain solution that provided cards with cash to those who were vulnerable and with mobile phones, shop owners could charge the cards. All transactions could be traced without relying on intermediaries.
My job was to work the team to shoot and produce a video and write, publish and share the case study so we could hopefully help other countries and NGOs run similar pilots
Can you give a quick outline of how you got ended up at ConsenSys?
I started in public relations at an agency, working mainly in technology, before moving into marketing at Deloitte, St George and then CommBank. At CommBank I joined the digital team and was there for almost eight years.
I'm always keen to try new things. I'm not one to build and then try to do the same thing over and over again. That's what made digital and now blockchain so exciting to me. A lot of the proofs of concepts haven't been tried in the real world and any company brave enough to invest money and people into it is bold. A lot of this has not been done before and there's no precedence. 
What have been the most significant changes you've seen in your career?
The biggest change I've seen is how people work with each other. I started off in your typical hierarchy where you work on an account and there is a Director and a General Manager, then moved into Agile at CommBank where you work together as a team to solve a problem. And now I'm in something that is totally decentralised, where you can do anything as long as you learn how to do it yourself. 
The way the workforce is going your job title will only stay relevant for a very short amount of time at a new company, depending on what your company needs. It's all about your role and your responsibilities rather than your job title. This will be a hard shift for some to make because currently everyone is so defined by their titles.
How have your ways of working changed?
As ConsenSys is a global company and everyone is working remotely you have to work to time zones a lot more. Your designer could be in Manila and your writer in New York – so trying to get that set up and running can be challenging, but rewarding. It means you can tap into an expert anywhere in the world – you're not confined by geography – giving you such a diverse set of opinions. 
Ultimately ConsenSys has broken down the traditional 9-5 working model. So, for me it's about trying to find periods of focus and then knowing when to rest. 
How do people best set themselves up for the future?
Find time for yourself. Find time to be open to different things. We get so involved in our jobs and improving on things that we already know that we don't grow properly. Do something like an 80-20 day – where you spend 20 per cent of your time learning completely new things. 
Soon our day-to-day working life is going to involve blockchain, machine learning and artificial intelligence, so it's important to be familiar with these concepts and the possibilities they bring.
I think it's unavoidable that we'll all have to develop some level of coding knowledge. Even just a basic understanding of how code works will be helpful for any job. Anything we do involves programming, whether it be data analysis or writing. 
What would you say to someone currently studying and deciding what to focus on?
The world revolves around data now. If you're interested in that include it as part of your degree. Security and programming are also going to be huge if you want to lean towards the IT side of things. 
But know there is a human element to things – such as arts and writing – that robots cannot replace. Even universities are going to find it hard to catch up so don't get too caught up in what they offer, and try to focus on soft skills and learning quickly on how to adapt while you're in school. You're going to have take some risks along the way and learn from your mistakes.
---
If you would like to have a confidential discussion regarding strategies to hire the finance people of the future now, contact us here or call us on +61-2-82756300.
---